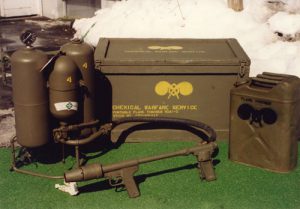 Flamethrowers are a unique mechanical system, with multiple sub-systems that have to function perfectly for the unit to work properly. Unlike a firearm, they cannot be stored for years, taken out, cleaned, loaded and fired. Regulators dry up and corrode, tanks rust or metal fatigue, hoses deteriorate, seals crack or become brittle, valves leak, and ignitions systems must be added. The WWII flamethrowers are over 65 years old with metal that rusts and old rubber seals.
Flamethrowers are inherently dangerous and only one in four can be made to fire safely. Hydrotesting is imperative so that tanks do not rupture. A fuel cell pressurized at even 100 psi can be deadly if it ruptures- sending sharp metal and flaming fuel in every direction. To be reasonably safe, a flamethrower (including hose, wand, fuel cells and high pressure bottle), must be hydrotested, leak tested, volumetric tested, rebuilt with USGI parts or equivalent, properly lubricated, assembled and test fired. All of this should be done using original Mil Spec procedures and USGI tools and test equipment.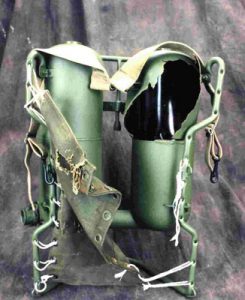 I have seen numerous cases of less than honest attempts to sell non-serviced flamethrowers as operational. Even if someone says a flamethrower works, without a proper testing and rebuild it has a very slim chance of working. If it does work, it may well blow up while using it. Unless you see a rebuild report, including photos of testing, and rebuilding of each part, the unit has most likely not been rebuilt. All flamethrowers that I rebuild are provide with a complete report with photos of every step of the process. I cannot guarantee that that rebuilt units will always perform flawlessly and last forever, but I can say I have provided the best possible restoration.