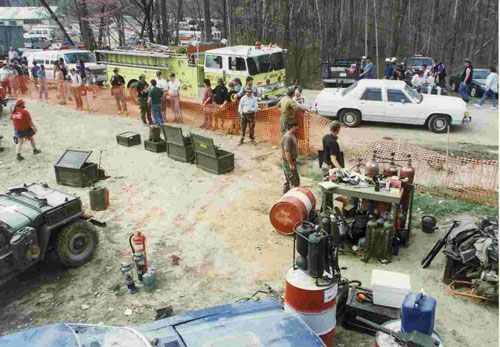 I have provided flamethrowers for events, movies, television shows and documentary productions. My policy is to provide a complete service with redundant back up systems and spare units, so that reliable working units are ready instantly. I utilize a complete service depot, multiple units and repair parts for service on the spot. Flamethrowers and backups are always ready with no time lost for refillings.
I usually have a minimum of three flamethrowers available and have agreements with private collectors to borrow different models on an "as needed basis". I have the following units ready to fire and ship next day:
US WWII M1 (both the M1 and M1-A1)
US WWII M2 (three)
US Vietnam Era M9-7 (two)
Japanese WWII M100 (the only working one in existence)
US WWII Armour Vehicle M3
German WWII Paratrooper M42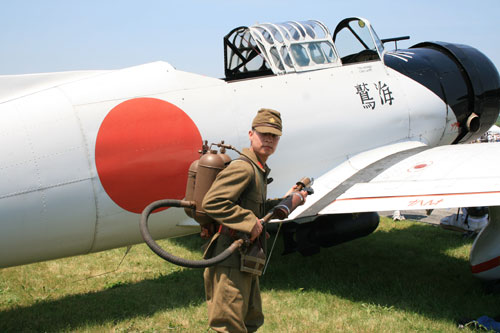 I do require that for my reputation and character, that we use the correct flamethrower model for that period and tactical situation. There is no reason to use the wrong model or "FARBY" flamethrower when a correct model is available.
Cost is calculated on the number of units needed, accessories and support are not charged for. Additional support personel may be needed, and they will be charged for. Travel costs and time are charged, along with shipping of material. The cost will be decided in advance with open end billing optional for addition time on a daily basis. I will work with you to make the support process efficient and cost effective for your crew.
Daily rental includes:
Multiple flamethrowers, serviced and ready to go, for rapid back up and retake firings.
Complete USGI service kits and hydrostatic test cerifications provided.
Replacement parts serviced and ready to go on site. Spares include: regulators, pressure bottles, ignition systems, and all seals.
A complete operator training program very similar to the USGI and including upgrade Safety Rules. Rules include: operator safety training, no gasoline (non volatile only), redundant pressure relief with alarm, lower operating pressure, current hydro and leak testing, Nitrogen instead of compressed air, and internal pressure monitored by safety instruction. Site Safety Program with documentation to satisfy regulatory agencies and insurance companies.