Flamethrower operator training originated in 1910 and was refined, first by the Germans during WWI, and later in WWI as the Allies captured and manufactured their own flame throwers. Form follows function and every army since then has developed identical training programs.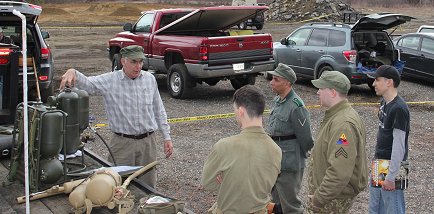 For modern firing of flame throwers over 70 years old, the focus for training has shifted from maximizing enemy casualties to maximizing operator
safety and enjoyment. With a flame thrower that has been properly serviced and following the safety rules, safety depends on the operator. Approximately 75% of the flamethrowers in existence do not pass hydro test and would have burst during firing. The operator is also trained in order to instill confidence so that he feels safe and can enjoy the experience.
Operators are first trained on the operating principals of flame throwers, the "how to" of operation. Then we cover the procedure for servicing according to the Mil Spec on military test equipment using OEM parts when possible. Next, Safety Rules are learned; each rule stresses what we can do to decrease the risk of accidents. Examples are: no gasoline, and only non-volatile fuels and nitrogen for propellant so that there is minimal risk of explosions in the fuel cells. Accidents and their causes are discussed with clear examples and the operator is quizzed afterwards.
Finally the student puts on the flame thrower and proceeds to the firing line. He must demonstrate at that time that he understands how to safely operate the flamethrower. He then fires a test shot to demonstrate that he can handle the heat and recoil, if acceptable he can fire at will. At any time prior to this, the instructor will decide if he is not qualified and he does not fire.